Mission Statement
Chabad of Guelph seeks to fight apathy and assimilation within the Jewish community by providing a warm and enjoyable Jewish experience for every Jew.

The Chabad House doors will always be open to all. It is a place where students, faculty, staff, and local community can socialize in a comfortable, homey setting, with friends, food and discussion. Chabad creates a warm and welcoming Jewish Centre, where everyone can explore their Jewish heritage in a nonjudgmental and friendly atmosphere.

Founded on strong personal relationships, Chabad educates and empowers people to live the joy of Judaism. We do this with many social activities, classes and events where everyone, from the young child through the senior in our community, will gain a deeper understanding and appreciation of their heritage in a fun interactive way. We provide for the spiritual and material needs of every Jew - regardless of background or affiliation with unconditional love and concern.

We look forward to personally welcoming you at the Chabad House where you will find warmth, wisdom and a good time at a House you can call your own!
About Chabad
Chabad Lubavitch is a philosophy, a movement, and an organization. In fact, it is considered to be the most important force in Jewish life today. Today, 4,000 full-time emissary families apply 250 year-old principles and philosophy to direct more than 3,300 institutions dedicated to the welfare of the Jewish people worldwide.

Chabad on Campus currently boasts over 256 full-service Chabad Jewish student centers at schools worldwide.

The Chabad-Lubavitcher Rebbe once famously said, "when two Jews meet, a third must benefit". It is with this mind that an important part of this movement, is the focus on the spiritual and social needs of the University of Guelph's Jewish students, as well as the local Guelph community. The organization is dedicated to the furtherance of Jewish education at all levels in the hope that it will inspire exploration of one's heritage and strengthen overall Jewish connection. Acceptance of every Jew regardless of background or prior experience is the hallmark of our philosophy.
About Our Namesake
Dr Jeff White was born in Mount Forest, ON. He converted to Judaism, becoming a Ger Tzedek, and married his wife Lisa, not long after they met at the University of Guelph. Together they raised 3 beautiful children here in Guelph. They imbued their family with Judaism and made it central to their life.

When the idea of establishing Chabad of Guelph was proposed, Jeff & Lisa were excited and took a leadership role in bringing it to fruition. Jeff and Lisa took Chabad of Guelph under their wing and would support our work in countless ways. Rabbi Raphi remembers Jeff helping him build the Sukkah each year and knocking signs in the ground along the Hanlon so every student would know about the welcome BBQ.

Jeff shockingly passed away at the young age of 55, shattering his family and community. He dreamed of a bustling Shul, Mikvah, Torah classes, and more in Guelph.

On Jeff's fifth Yahrtzeit, Lisa White donated the Chabad House property to Chabad, giving Chabad a permanent home, and Chabad of Guelph was renamed the Dr. Jeff & Lisa White Chabad of Guelph in recognition of this monumental gift. We hope to give Jeff the legacy of a bustling shul, Mikvah, Torah classes and more, as he deserves!

May his memory be for a blessing.
Meet the Directors
Rabbi Raphi Steiner grew up in Thornhill, Ontario, where he attended the Cheder Chabad of Toronto. In 2002 Rabbi Raphi Steiner went on to study at the Michigan Jewish Institute in Oak Park Michigan. He then continued his studies as an exchange student in Buenos Aires, Argentina. He received his rabbinic ordination from the Central Chabad Rabbinical Court in Israel and completed his studies at the Central Lubavitch Yeshiva in Brooklyn, New York.

Since 2009, Rabbi Raphi has served as the program director and student liaison for the international Student Committee at Lubavitch World Headquarters in Brooklyn, New York. In this capacity, he joined a team in creating and executing extracurricular programming for the worldwide Chabad-Lubavitch Yeshiva system.

Rabbi Raphi, met and married his wife Mussie in 2012.

He later managed special projects and directed an overhaul of the POS system at a high end retail store in Brooklyn, NY.

Mrs. Mussie Steiner was born in Brooklyn, New York. She grew up in the community of the Chabad-Lubavitcher Rebbe. The Rebbe imbued her with a sense of mission to devote her life to Jewish education and community. She graduated with distinction from the Bais Rivka School, and continued her post-graduate studies at Machon Shoshana Girls Seminary in Jerusalem, Israel.

Mussie went on to pursue an early childhood education degree and taught at the Yeled V'Yalda early childhood center, as well as the Lubavitch on the Palisades preschool.

Mussie's energetic personality coupled with her unique talents and people skills has made her a number one teacher, program director, and friend. Her fantastic cooking attracts large crowds to Shabbat dinners at the Chabad House.
Meet the Executive Board
Each of us can serve as a leader. And one leader creates another and another, ad infinitum, just as one candle's flame lights another and another, until the once-impenetrable darkness has turned to brilliant light.

The Chabad Executive Board is a group of dedicated individuals who volunteer their time looking to bring the warmth and joy of Judaism to Guelph. These students help grow Chabad's reach and bring unique, relevant and inspiring programming to the City of Guelph
At a Glance
What exactly is Chabad of Guelph? In a nutshell, we are…
A Jewish organization
A comfortable home where you can explore your Jewish heritage
A forum where you can question faith and not be afraid of judgment
An opportunity to meet new friends and challenge yourself to think beyond the classroom
A place where every Jew is family
Values
Why are we here? Because we care. The values that lie at the heart of Chabad of Guelph are embodied in Torah and Jewish tradition. They include:
A commitment to the growth and success of our students and community, because we are all family.
Dedication to the people we serve to ensure Jewish continuity.
An overall goal of helping one single person many times over, because we strive to view each individual as just that, an individual.
Who We Are
Chabad of Guelph is a meeting place for social, religious, educational, and cultural events. Friday nights while school is in session, we host Shabbat dinners that provide Jewish students with an intimate setting to eat, meet new people, and celebrate Shabbat in a way that is spiritual, intellectual, and stimulating.

Our holiday programs – like Sushi in the Sukkah and annual Purim party – help raise Jewish consciousness and pride on and off campus. Our Sinai Scholars Program and deliParsha class share the beauty and depth of our heritage with students as well as the leadership community. And our social events - like our annual ski trip, bowling outing and monthly Jewish Girls Club brings the Jewish community together.

Most importantly, we are there for students and the local community around the clock. Whether it's a one-on-one learning session or a one-time request for help or advice, we are here to provide you with the support you need.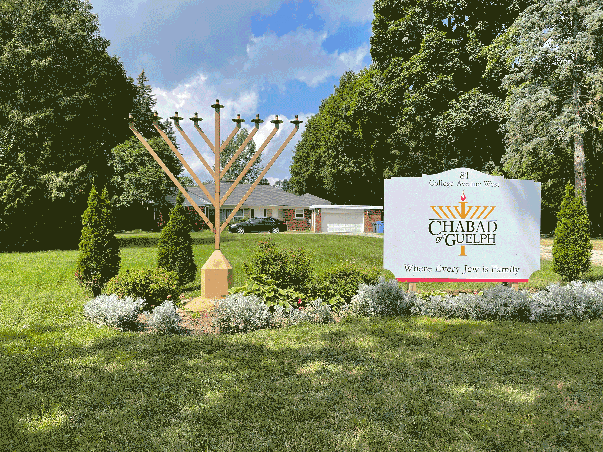 MFRT
The Multi-Faith Resource Team is a unit on campus under Student Experience. The team is made up of chaplains and staff from various faith groups who provide for and advocate for religious life and opportunities on campus. Chabad of Guelph is a member of the team and Rabbi Raphi is a recognized chaplain on campus. You can find him in his office on campus in Raithby House.
Find out more about the team
here
.
Myths & Facts
Is what you think about Chabad myth or fact? You may be surprised!

MYTH: You have to be "Orthodox" to participate in programs offered by Chabad.

FACT: Chabad is inclusive and non-judgmental, and their programs are open to all. In fact, the vast majority of people who participate in programs at Chabad are not "Orthodox". The teachings of Chabad are imbued with the renowned Chassidic spirit and joy, but in no way is the commitment to an Orthodox or Ultra-Orthodox lifestyle a prerequisite to one's acceptance at Chabad functions.

MYTH: Chabad's goal is to make me Orthodox.

FACT: Chabad is not out to make one Orthodox. Chabad is an organization dedicated to engaging every Jew, regardless of background, affiliation, or personal level of observance, and providing resources to help increase their level of Jewish knowledge, enthusiasm, and commitment. Chabad invites you to explore the complex areas of Jewish religion, tradition, and practice in an open-minded and non-judgmental atmosphere.

All of Chabad's classes, programs, and services are designed to heighten the awareness and lend valuable insight into one's heritage, traditions, religious practice, laws and rituals. Each individual is invited to participate, study, and learn. Each individual makes his or her own respective religious, lifestyle decisions at his or her own pace.

MYTH: Chabad does not consider Reform, Conservative, or non-practicing Jews as "real" Jews.

FACT: At Chabad a Jew is a Jew is a Jew. Chabad avoids labeling other Jews, since it tends to divide and create artificial barriers between us. Since the days of Moses, Jewish Law has considered anyone born of a Jewish mother or converted in accordance with Halacha to be a Jew, regardless of his or her degree of observance. In fact, the leader of Chabad, the Lubavitcher Rebbe delivered a stinging rebuke to Orthodox elements in the USA and Israel for publicly belittling non-Orthodox Jews.

MYTH: Chabad is financed by its headquarters in New York.

FACT: It is Chabad policy that each center is supported by the community it serves. Thus, funding for local Chabad programs is generated locally. No money or dues are sent to international Chabad headquarters in New York — all funds donated remain right here in our community. Neither are we funded or financially supported by our central headquarters.